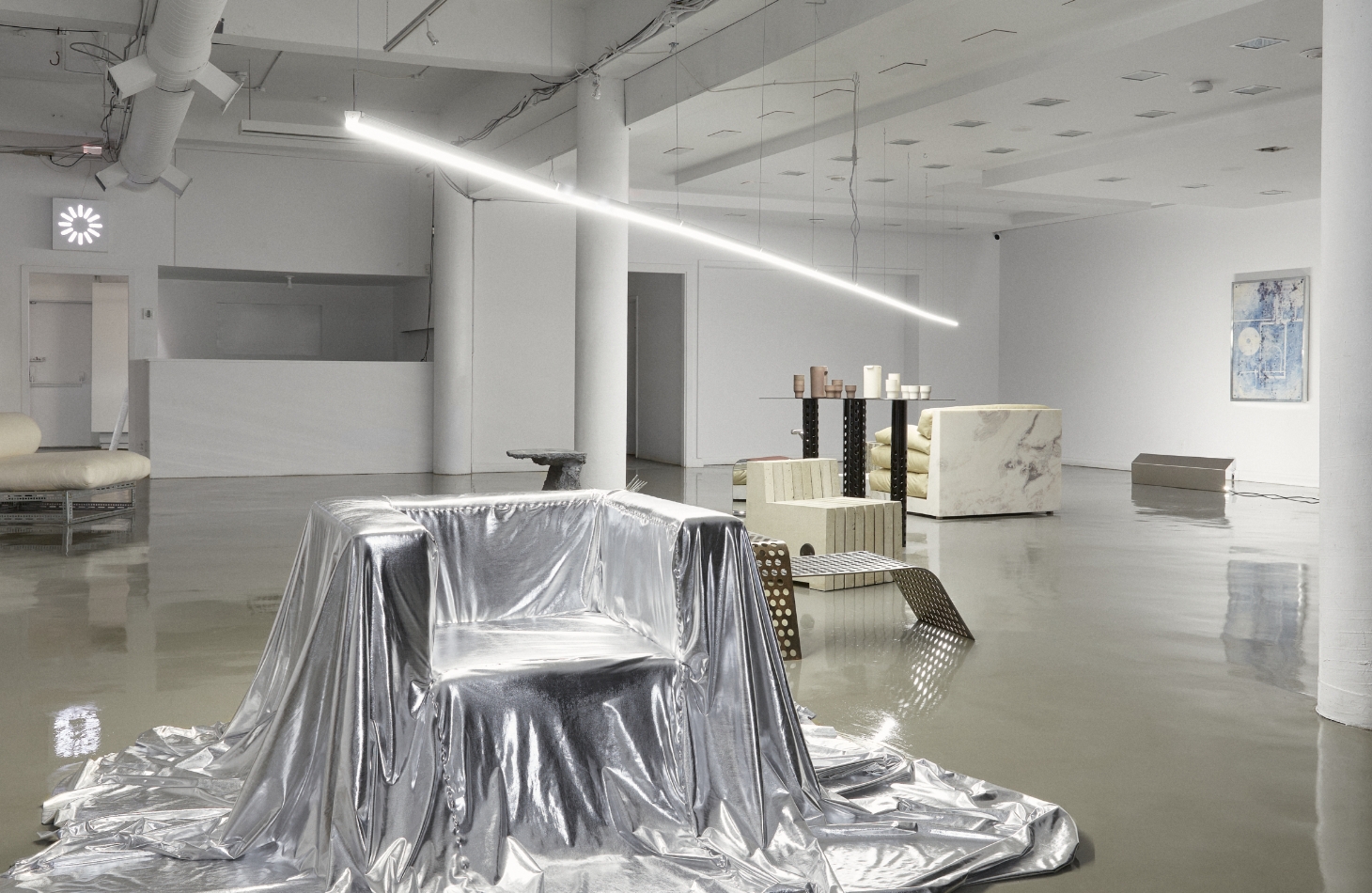 First cell. Black, black metal, forged, poured and scourged. Effluvia of radical freedom, Queb freak scene and universal brutalism. Neo-PoMo noise-pop sci-fi salvo. Feral tattoo, metal tears. Fractal convergence and uncounted embodiments. Iron undressed, armoured concrete. Cranked volumes and twisted loops. Perpetual rings, broken, toppled and ruined. Pedal to the metal. Wet Metal, the new moist, moulded mindset.
For this first 8888 collection, Jean-Michel Gadoua mandated its collaborators to imagine the objects of a brutal and metal everyday life. Perforated steel and reinforced concrete, the new optimism of a dystopian world.
Although furniture represents the hard core of this collection, it also offers accessories, clothing, music, poetry, sculptures, skincare etc. For Wet Metal, 8888 curated and created everything, everywhere and for all. The Wet Metal collection comes in more than 60 pieces that were debuted in the fall of 2020.
Full Wet Metal lineup:
001 – Font E/8888, Feed
002 – editions8888.com, Feed x Croustille
003 – Staff T-Shirt, Feed
004 – @editions8888
005 – DFV Master of Brutality Deck, PSC Tattoo + Feed
006 – DFV Master of Brutality Deck, PSC Tattoo + Feed
007 – Wet Metal Opuscule, Maude Veilleux
008 – boutique8888.com, Feed x Croustille
009 – Tote bag, David Raymond x Feed x France D'amour
010 – Wet Metal Flyer, Feed
011 – Windows 8888 T-shirt, Feed
012 – Facepuker T-shirt, Feed
013 – DFV White T-shirt, Feed
014 – DFV Black T-shirt, Feed
015 – Smoke Block, gauleybrothers
016 – DFV Sticker
017 – DFV Patch, Feed
018 – The Darkening Hour EP, No Negative
019 – Pichet 66, Élyse Leclerc x Koen de Winter
020 – Sensus, Johannes Schnatmann
021 – The Facepuker, Tat Chao x Feed
022 – Motherpuker, Tat Chao x Feed
023 – Windows 8888 Sticker, Feed
024 – Wet Metal Patch
025 – Endless Concrete Bench, Jean-Michel Gadoua x Guillaume Ménard
026 – Core Table, Simon Johns
027 – Betelgeuse Flesh, gauleybrothers
028 – Unlimited WiFi Totem TV – Totem tv WiFi ∞ (Alt 5), Jean-François Tousignant
029 – Modernic, Jean-Michel Gadoua
030 – I Was Ironing the Curtain When I Fell Out the Window, Jeremy Jansen
031 – La Chaise, Alexandre Joncas for Studio d'Armes
032 – Oxi Clean, Devon Corman
033 – Cortical Corrosion, Nick Castonguay
034 – Black Metal I, Console, Jean-Michel Gadoua
035 – Steel Cloud, gauleybrothers
036 – Melting Ring, David Raymond
037 – Wet Metal Flash Sheet, William HB
038 – Glistening Flesh Oil, TEAMM x Alper Sisters
039 – Good Friday Nails, Cody Dickerson
040 – Puker Family Hoodie, Feed
041 – Basic 8888 Crewneck
042 – Main de Fer, Feed x TEAMM x Devon Corman x Gérald Lajoie x Ashley Diabo x Candy Contrera x Paul Edward Wilson
043 – Lazy Chair, Studio Kiff
044 – Slimy Panther, Félix Morel
045 – 8th Daughter of an 8th Daughter, Jean-Michel Gadoua
046 – Over the Knee, Melanie Garcia
047 – 2020 Candle Holder, Rachel Bussin
048 – Elombe 010, Ibiyanε
049 – Mystic Phoenix, Ashley Diabo x Feed
050 – Wet Metal Exhibition, 8888
051 – Exhibition Programme, Feed
052 – Price List, Feed
053 – The Alien, revealed to be Bolaji Badejo, Mike Sibthorp
054 – TonerInk Painting Series, Untitled-0009, Jean-François Tousignant
055 – Live Concert, Un Regard Froid
056 – Live Concert, PLAGIARISM
057 – Perverbial Grave Music Video, Rob Feulner x No Negative
058 – Transmetal moodboard, 8888 x Feed
059 – Furniture + Objects Catalog, Feed
060 – Alien T-shirt, 8888 x Mike Sibthorp
061 – Black Metal II, Accent Table, Jean-Michel Gadoua
062 – Thank you note, Feed
063 – ???
064 – 504L Shelf, Mati Contal for New American House
065 – AE Wall Hanging Sculptures, Simon Petepiece
066 – 703S Bowl, Simon Petepiece for New American House
067 – Twist Ring, Megan Morrissette
068 – Ectomorphe I, Floor Lamp, Olivier Bonnard
069 – Ectomorphe II, Table Lamp, Olivier Bonnard